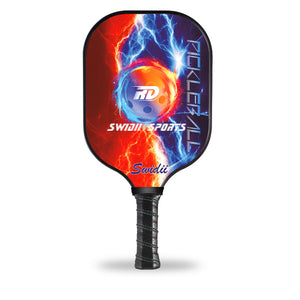 SWIDII Pickleball Paddle Features:
Superior high-quality lightweight (7.8 oz) honeycomb polymer core with graphite carbon fiber face. Makes paddles feel great. Eliminates denting. Exceptionally durable material gives racket ideal strength and longevity. Designed in USA.

Optimal balanced control and power hitting. Wide body creates large sweet spot for better impact. Resilient surface offers great ball spin. Shots are more accurate. Prime edge guard for protection on ground hits. Good looking black / purple paddle face design. Enjoy your indoor and outdoor play.

Precisely drilled holes make the balls deliver a perfect flight path. Balls can be used for the most aggressive pro play and minimize wind interference. Perfect bounce and remarkable durability make these pickle balls the best choice for any game. Popular high visibility orange / yellow color.

Super soft non-slippery comfortable handle with elite wraps (overgrip). Blue protective carrying duffel / storage cover case with nice gift design. Racquets are for all age (adults, elders, teens, young kids, and whole family), female & male, different skill levels including beginner / starters, intermediate, to top advanced head champion professional expert players. Two bats and three balls bundle pack provides immediate game court needs.

Mens and ladies, parents and grandparents, grab this unique sport bundle equipment gear present for your children, grandchildren, and friends. Great for a birthday party, Thanksgiving, Christmas, New Year's Eve, any holiday, reunions, housewarming, or graduation. Get this amazing smart deal for you on Amazon now (raquet sale 4)!